Roofmaster Roof Mount Basketball System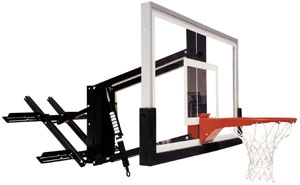 The RoofMaster offers infinite adjustability for the customer who has no place for a pole mounted system.

No other system compares to the RoofMaster from First Team. The unit is versatile enough to mount to any roof pitch or vertical wall surface.

The RoofMaster is infinitely adjustable with the industry's widest range of height adjustment. With a simple turn of the handcrank the RoofMaster offers an adjustment range of up to 4-feet (10' - 6'). An easy-to-read rim height indicator displays the exact height of the rim.

We offer several backboards and rims with the RoofMaster so you can choose the package that's right for you and your budget.

For player safety, First Team offers optional backboard padding for each RoofMaster system.

Every RoofMaster package comes with a Lifetime Limited Warranty.

Roofmaster Quick Reference
II
III
Select
Turbo
Nitro
36x48 Acrylic
36x54 Acrylic
36x60 Acrylic
36x54 Tempered Glass
36x60 Tempered Glass
---
There are no products to list in this category.