RollaSport Fixed Height Portable Basketball System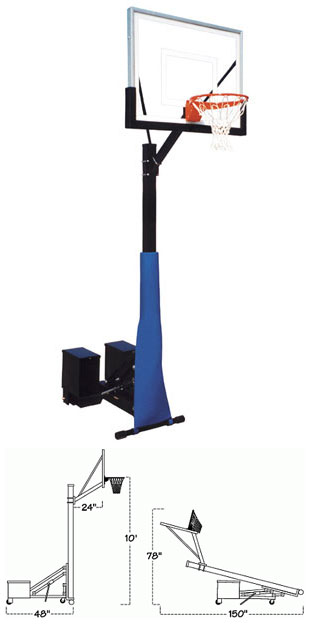 The RollaSport is the clear choice in portable goals when frequent rim height adjustments are not necessary.

The extension arm on the RollaSport is attached to the vertical post using two heavy duty U-bolts. thought the RollaSport is considered a "fixed-height" portable goal, the U-bolts can be loosened, allowing the arm to be re-attached at any given height along the post.

To transport the RollaSport, simply retract the vertical post, using the post actuator located on the base unit. As the post pitches back, the RollaSport lowers onto the transport wheel. Return the post to its vertical position for play. The goal rolls easily into any garage, or through any set of double doors. A high quality post pad covers the front of the unit.

Backboards are available from 36" x 48" to 36" x 60", giving you a choice for your home court. No portable goal offers the same quality court time at such an excellent value as the RollaSport.

Every RollaSport package comes with a Lifetime Limited Warranty.
RollaSport Quick Reference
II
III
Select
36x48 Acrylic
36x54 Acrylic
36x60 Acrylic
---
Showing 1 to 3 of 3 (1 Pages)