RollaJam Portable Adjustable Basketball System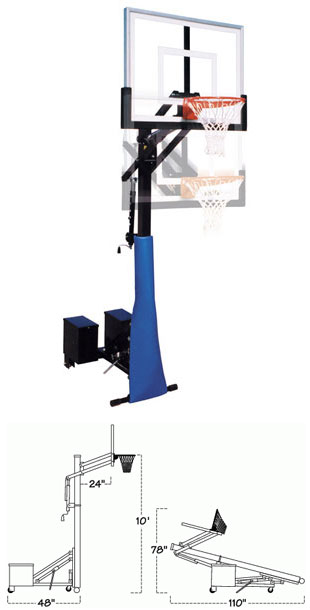 T
here is nothing like the RollaJam! The RollaJam's unique design is the first premium grade, portable goal with the residential player in mind.
The RollaJam is crank adjustable from regulation height of 10' down to 7'. The crank handle is spring-aided to make adjustments easy for all ages. The rim height indicator accurately shows rim location.
To transport the RollaJam, simply retract the vertical post, using the post actuator located on the base unit. As the post pitches back, the unit lowers onto the transport wheel. Return the post to its vertical position for play. The goal rolls easily into any garage, or through any set of double doors. A high quality post pad covers the front of the unit.
Customize the RollaJam by selecting the backboard and rim combo that fits your game! Choose First Team's RollaJam for your court. With no hole to dig and no concrete to pour, you'll be "Jammin" in no time with the RollaJam!
Every RollaJam package comes with a Lifetime Limited Warranty.
---
Showing 1 to 6 of 6 (1 Pages)