Timbers and Border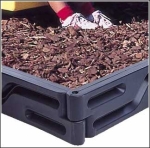 Landscape Timber

Contain yourself!
Eliminate maintenance and repair of wooden borders with durable PVC timbers. Available in a choice of colors and sizes, these borders provide a long term solution to border and containment. Available in 6"(dark brown only), 8" (black only) and 12" (black, orange, fuchsia, red, burgundy, purple, blue, teal, green, tan grey and white). Easy installation with timber stakes, sold separately.
Landscape Timber Hardware

- Rounded safety head of galvanized steel stake makes installation easier and safer.
- 6' Landscape Timber requires 2 stakes 30"
- 4' Landscape timber requires 1 stakes 30"
- 6" Landscape timber requires 1 stake 24"
Priced each.
---