Blast Volleyball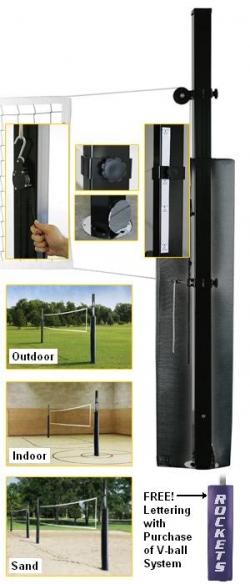 Introducing the Blast indoor/outdoor volleyball system. Our Blast volleyball systems are designed to offer high quality performance, durability, versatility and safety all in one affordable package.

The 4" square steel powdercoated uprights can be installed outdoors for either sand or grass volleyball courts. The Blast also makes a great recreational indoor system for churches or YMCA's or anywhere groups gather to play. The infinitely adjustable net height from 7' 11 5/8" (men's competition height) down to 3' (tennis net height) makes the Blast a great unit for all ages and all types of net games. Our simple net tensioning device makes setting up the unit quick and easy providing competition level net tensioning.

Installation can be permanent by cementing posts in place, or post can be made removable when used with our indoor/outdoor ground sockets for gym floors and grass courts. For sand courts where post removal is desired, we recommend purchasing our FT16 sockets for sand.

We offer the Blast volleyball system in an array of configurations. Select from packages with or without padding, floor sockets, sleeves, etc. When you are searching for the best in affordable volleyball systems, choose this and have a BLAST!
| | | |
| --- | --- | --- |
| Model | Description | Shipping Weight |
| Blast Complete | Complete system including floor / ground sockets | 250# |
| Blast Express | Same as Blast Complete excluding sockets | 230# |
| Blast Basic | Same as Blast Complete excluding sockets, padding and antennas | 200# |
| Sand Blast Complete | Same as Blast Complete except includes FT16 sleeves for sand instead of floor/ground sockets | 330# |
---
Showing 1 to 3 of 3 (1 Pages)