What is a Public Playground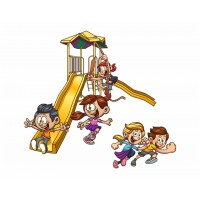 There is often confusion when planning a playground involving consideration as PUBLIC or PRIVATE. The guidelines or standards that apply may be different, depending on where the playground will be used. According to:
Public Playground Safety Handbook - CPSC Publication 325 U.S. Consumer
Product Safety Commission
1.3 What is a Public Playground?
"Public" playground equipment refers to equipment for use by children ages 6 months through 12 years in the
play-ground areas of:
• Commercial (non-residential) child care facilities
• Institutions
• Multiple family dwellings, such as apartment and condominium buildings
• Parks, such as city, state, and community maintained parks
• Restaurants
• Resorts and recreational developments
• Schools
• Other areas of public use

These guidelines are not intended for amusement park equipment, sports or fitness equipment normally intended for users over the age of 12 years, soft contained play equipment, constant air inflatable play devices for home use, art and museum sculptures (not otherwise designed, intended and
installed as playground equipment), equipment found in water play facilities, or home playground equipment.Equipment components intended solely for children with disabilities and modified to accommodate such users also are not
covered by these guidelines.